---
Sale
Only 1 in Stock! Get yours today!
Introductions:
The human body needs to replenish a lot of nutrients and energy every day. This  slow juicer can definitely meet your needs. it can separate the juice and pulp with slow speed in a few minutes, such as extracting gingers, celery, wheat grass, oranges and other fibrous fruits and vegetables. The juice that is squeezed out is pure and still retains a lot of nutrients in because of the low-speed extraction, choosing LivMoray SLOW MASTICATING JUICER is definitely your best choice, let us cheer for health!
Features:
1. Multi-purpose for Fruits and Veggies, Upgrade Spiral System:  juicer machines with 7 spiral masticating for maximum juice yield, minimal oxidation, reserved most nutrition. It can make various health foods for your family. Such as extracting gingers, celery, wheat grass, oranges and other fibrous fruits and vegetables. Easy to enjoy different flavor juices every day with LivMoray cold press juicer
2. 80 Rpm Slow Masticating and Grinding - 90% More nutrition growth, without creating too much heat and friction. Reserving the vitamins, enzymes, minerals, trace minerals and nutrients. With less foaming and no clogging
3. Small Caliber Cold Press Masticating Juicer: slow juicer with small feeder chute allows you can remove the seeds when you cutting the fruit to reduce the bitter taste, It can make the juice tastes better. At the same time, juicer can prevent children from bring injured during juicing. This humanized design can let you and your whole family make each other's favorite juice with juicer machines together every morning
4. Easy to assemble and simple to operate: Easy to assemble, operate, and clean. Dishwasher-safe parts make cleanup a breeze. A heavy-duty and stable body that let's you enjoy a quiet life
Specifications:
1. Pulp Collector Volume: 1000ml
2. Juicer Jar Volume: 800ml
3. Material: Stainless Steel & PS Plastic
4. Voltage: 120V
5. Plug Type: US Standard
6. Power: 150W
7. Operating Mode: ON-0-Reverse Function
8. Dimensions: (15.16x 6.7 x 13)"/ (38.5 x 17 x 33)cm (L x W x H)
9. Weight: 8.38lb / 3.8kg
10. Color: Silver & Black
11. Brand: LivMoray
Package Includes:
1 x Masticating Juicers
1 x Juicer Jar
1 x Pulp Collector
1 x Push Rod
1 x Cleaning Brush
1 x Manual
Remember, No Shipping or Handling Fees for anywhere in the Continental US!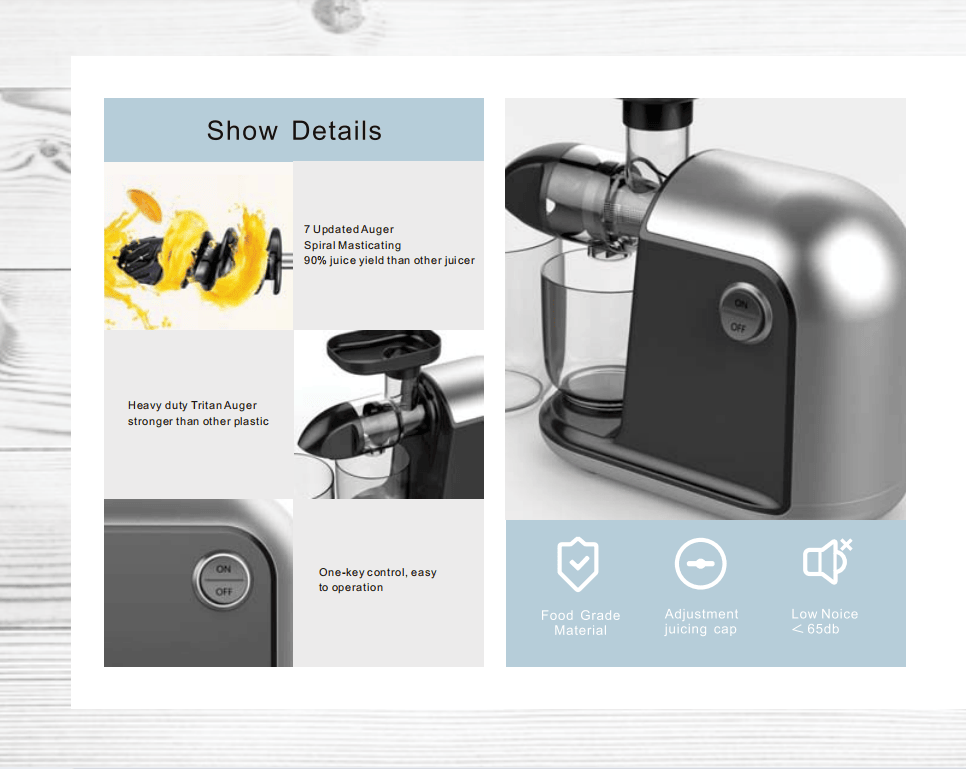 Every product is unique, just like you. If you're looking for a product that fits the mold of your life, the LivMoray Slow Masticating Juicer - 1000ml Pomace Cup -Two-speed - Horizontal Electric - Black is for you.

Inventory Last Updated: Jan 25, 2022